26 August–2 September 2023
Main event: 12pm, 26 August (free)
Workshop: 12–2pm, 27 August (

register here)
Freestyle jam: 2–5pm, 27 August (free)
Contemporary Art Tasmania
Tobias Becs
Jordan Morrison
Jay Hennicke
Tom Kentta
Curtis Maher
Zac Roberts
Jakob Semajer-Garic
Feras Shaheen
Susan Sohar
Albert Hua
Moh Nazari
Yuki Tokimoto
Ben Kelly
Dylan Stipack
Luke Cartwright
Hobart Breakers
DJ DynOmite Drew
DJ Brown Sugar
Ziko
A look into Freestyle Football in Australia
Our Side of Things is a hybrid public event and exhibition that embraces the layered subculture of freestyle football in Australia. Influenced by football (soccer), circus, breaking (breakdance), hip hop battle culture and many other forms, with its roots in ancient Southern and South East Asia, freestyle football represents a contemporary border-breaking art form that is quickly gathering momentum through digital platforms.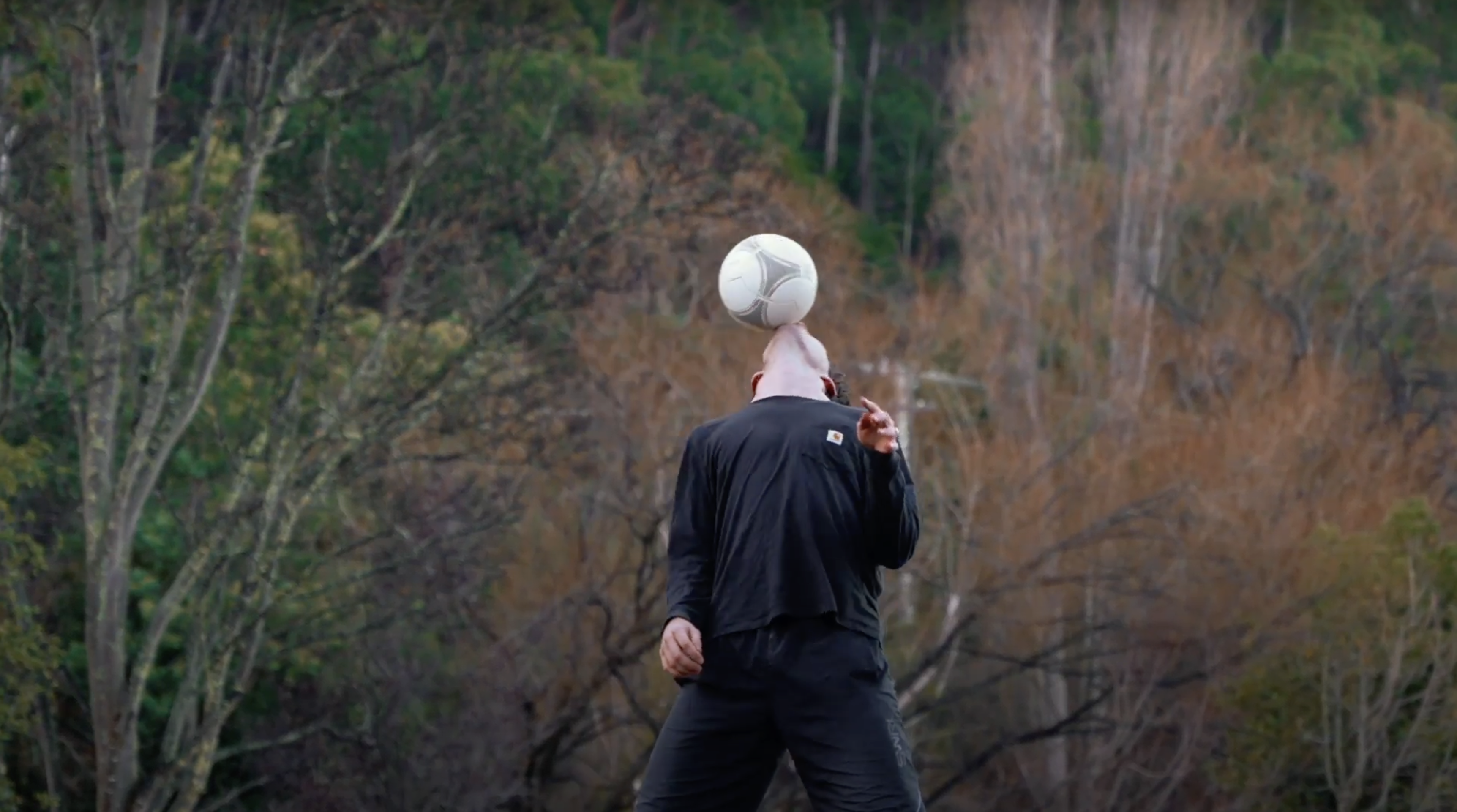 Sat 26 Aug
Main event 12–5pm (free)
Australia's best freestylers go head to head in a series of freestyle football battles. Join us for Lutruwita's first freestyle football event from those dedicated to this distinctive culture.
Sun 27 Aug
Jay Hennicke, Jordan Morrison and Tobias Becs will exhibit and teach participants the art of freestyle football.
Freestyle jam 2–5pm (free)
Freestylers will practice, share and communicate within the space. This event is open for audience to watch or participate.
Mon 28 Aug
Late session 5–9pm
Jamming 6–7pm
Wed 30 Aug–Sat 2 Sep
Exhibition open 12–5pm
Jamming 1–2pm
Co-curators
Feras Shaheen
Born in Dubai to Palestinian parents and moving to Western Sydney at age 11, Feras Shaheen is an artist using choreography, installation work, film, performance, digital media, and street dance to communicate his ideas. Holding a Bachelor of Design from Western Sydney University (2014) Feras often subverts traditional relationships between mediums to challenge audiences' perspectives. He was the winner of The Australian Ballet's Telstra Emerging Choreographer in 2021 and has performed and exhibited at Carriageworks, Venice Biennale, Kampnagel, Campbelltown Arts Centre and Théâtre de la Ville, Paris.
Jay Hennicke
Tasmanian-born Jay Hennicke is one of the key players in both the Australian and global Football Freestyle scene. Jay specialises in the competitive scene, where he is currently ranked in the top 16 globally and is the current, and x3 Australian champion. Jay has international experience in both performing and providing critical feedback.
Supported by Arts Tasmania and the Australian Government's Regional Arts Fund