City Taken Over
Nathaly Fernanda Garzón Agudelo
"Behind is the city: swollen, broody, bristling with domes, minarets and terraces, brooding its many centuries; ruminating on its past, like a cow under the drone of horseflies; passing and reviewing its rosary of moons and suns […]; taking stock of invasions and language accounting; reciting chronicles, annals and memories of plagues, fires, landslides, floods, earthquakes, typhoons, droughts, wars and famines; burying its dead that descend towards the River and inventorying its newborns that rise towards hunger. " Jorge Zalamea [1]
Behind was the city, then unaware and innocent of the sudden crisis which would soon break into its daily constituent routines. Meanwhile I was landing into the reality of the world in a small town at the country's center. Ten days of silence, meditation and introspection had passed; January 31st marked the calendar. My first bridge with the outside world was a phone call to my brother, to report the satisfaction of my experience while trying to inhabit the present, and expecting whatever he wanted to say. After finished the personal matters, he introduced in my life what it may be the most heard word these days, by telling me about a certain virus that was afflicting and shocking China, the Covid. Almost nothing could disturb me at that moment; but I also thought that such a media scandal most probably had a boss and business behind. So for me the subject remained distant, like Wuhan from home.
In mid-Febuary the spread and fatality of the virus in Europe began to resonate more strongly. Here, in the meantime, political and economic analysts, experts in figures and forecasts began to swarm. On February 26, the first case registered in Latin America – in Sao Paulo, Brazil – generated a collective wobble, finally suffocating any illusion of exemption, of "being saved from this one". And as proof how fast this globalized planet moves, 10 days later the first confirmed case of Covid in Colombia was already public, a 19-year old woman from Milan. The news shocked me, I can't deny it. It frightened me – it still does – what such a contagious and unpredictable virus could mean in a society like Colombia's: unequal, without a state to serve the welfare of its people, of corrupt leaders and of people already subjugated by hunger.
Until March 19 – when the mandatory quarantine began in Bogotá – nothing much changed in my plans. Around that time an old Colombian friend I met in Alice Springs was visiting me, and we were determined to explore Bogotá through my magnifying glass. So we rode through historic streets on our bikes, ate the right foods in the city center, danced, raised a few glasses, and of course joined the massive march in commemoration of International Women's Day – 8M – when crowds had just begun to be demonized. Once filled with the city noise, our itinerary pointed northward to four small towns. The first two – very beautiful each in its own way – were covered by an intrinsic veil of silence and solitude, keeping us isolated from the pandemic rush. We only got until the third stop, as far as the Covid allowed us. Suddenly, long lines in grocery stores, people at the exit grasping at straws and squeezing everything; my first fright in a restaurant on account of a spray gun pointing directly at me as a biosecurity protocol; shortage of disinfectant gel, face masks and industrial alcohol, although fortunately we always have enjoyed the privilege of toilet paper sitting on the shelf. At this point we understood it wasn't the right time to be travelling, but rather to return home.
It comes to my mind that Cortazar's tale where Irene and the narrator accept that part of their house has been taken. "When I got back with the tray of mate, I told Irene: – I had to close the door to the passage. They've taken over the back part. She let her knitting fall and looked at me with her tired, serious eyes. – Are you sure? I nodded. – In that case, she said, picking up her knitting again, we'll have to live on this side" [2]. Thus, as an irrefutable truth, a new paradigm was drawn: security is on this side, behind closed doors; for the streets have been taken over by an invisible enemy. In this taken city, like many others, is my home. After more than a month and a half of quarantine, I feel I know it intimately. I have memorized its walls, its ruins, its luxurious white walls, wooden frames and doors, which mark the frontier between the secure interior and the uncertain exterior. I have found new shelters inside my shelter, some small new projects, mutual cleaning routines and treasured spaces of great silence. I have also discovered some surrounding customs; including the trumpet player who intones his notes every day before lunch and who lately has been betting on a new rhythm; one of the neighboring twins, now old, who pulls out her chair if the sun rises and spoils my dog with a piece of chicken when he passes in front of her house; and from the windows on the top floor I can see how the other neighbor's garden is doing and the occasional colorful sunset, when I remember that this spiritual experience is only a few steps away.
The external reality reaches us mainly through the radio and television – as most of my compatriots I can bet – and the net, for those of us who count with the glorious access. One hears talk religiously about numbers in a global coverage; about the great debate on protection of public health vs. the upcoming economic collapse; about the extremely congested prisons where the virus found fertile ground; about how quarantine is a class privilege and how hunger forces many to expose themselves to contagion; about many politicians' actions in their midst – every day the president addresses the people from 6 to 7pm, telling his administration's tale in an attempt to calm the waters; there is also talk regarding the lack of football and its impacts; about bank loans to tackle the crisis; and how the government intends to save banks as well as companies of all sizes; about art in a virtual arena; about the hard time regular drug users are facing; about generous donations, theft and corruption in the delivery of aids, about fear and hunger.
All it takes is a walk along the street – in spite of it being a punishable act – to see hunger, to find red rags hanging in front of houses as a symbol of a home in need. A symbol which, in the face of its ineffectiveness, seems to have lost meaning, and anyone could think that we are on the verge of a revolt. But no, "good luck didn't rain yesterday, nor today, nor tomorrow, nor ever, nor in little drizzles does good luck fall from the sky" [3]. Meanwhile, the great safeguards here continue to be community initiatives, empathy translated into work for others, neighboring solidarity and within reach.
And so the days pass, in the realm of the present, because the future less than ever belongs to us.  Days in which privilege weighs heavily and others in which anguish lurks. The days of Barba Jacob's "Song of the Profound Life" pass by: days when we are so variable, so fertile, so wanton, so sordid, so gloomy; and other days when we no longer want to be.
---
Zalamea, J. El sueño de las escalinatas. Ed Fontamara. 1975, p 10. (translated by the writer)
Cortázar, Julio. "House taken over". https://www.shortstoryproject.com/story/house-taken-over/  (accessed May 1, 2020).
Galeano, Eduardo. "The nobodies". https://anti-imperialism.org/2018/04/02/galeano-the-nobodies/ (accessed May 5,2020)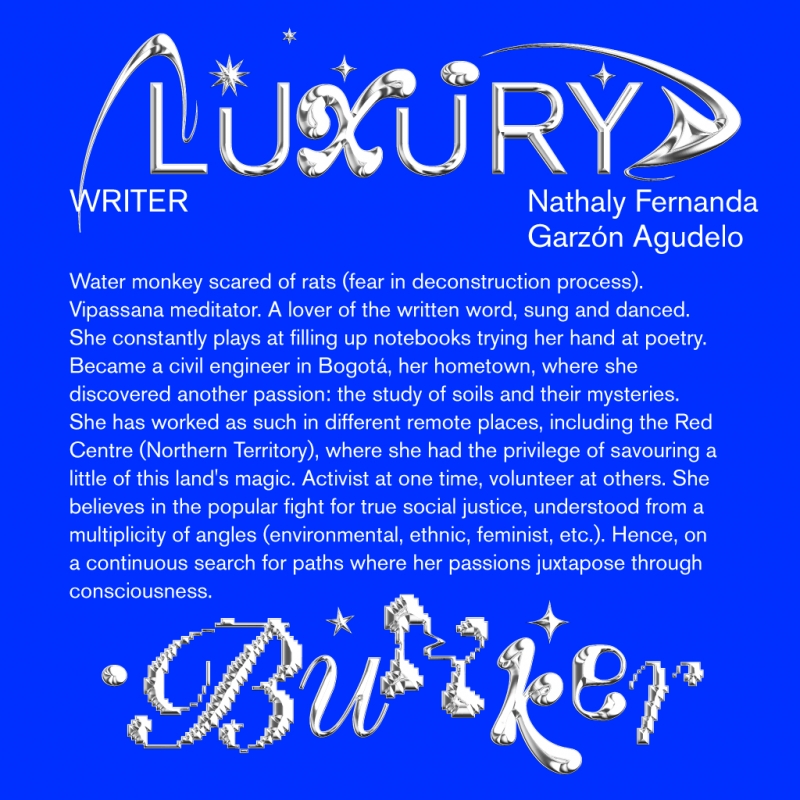 Luxury Bunker is a series of texts  presented by Contemporary Art Tasmania's online platform for writing, Journal.
Traditionally Journal provides an opportunity for writers to respond to our gallery exhibitions. Due to the COVID -19 gallery closure we are expanding the scope of Journal and commissioning an international selection of writers to respond their space, place, city… their bunker.