Tour
Mona Foma 21–23 January 2022
Echo 8–10 April 2022
Nayri Niara 22–25 April 2022
Music at Mona August–November 2022
Cygnet Folk Festival 13–15 January 2023
Pangaea Festival 3–6 February 2023
Tin Camp Studios is an Indigenous-led project developed by Warren Mason and supported by Kath Melbourne. Tin Camp was launched at Mona Foma 2022 in Launceston and has toured across Tasmania since.
Tin Camp is a powerful Indigenous-led illustration of the intersection between people and place. Tin Camp is a pop-up space constructed from salvaged materials, modelled on the typical Aboriginal-built tin camps found at the edge of countless Australian townships from the 1950s to today. Constructed by Tin Camp Studio founder and proud Yuwaalaraay man Warren Mason as a place for performance, music, storytelling, healing and recording.
I was born in Dirranbandi, south-east Queensland in 1969. I grew up in Goodooga, NSW. I am a proud Indigenous man with lines to the Yorta Yorta and Yuwaalaraay and I am the Host/Curator and Founder of Tin Camp Studios.
Tin Camp explores my own personal story of the Camp on the outskirts of my home town of Goodooga NSW. We were the first Aboriginal family allowed to live inside the township itself, The existence and disconnect from the camp was central to the formation of my identity and all the questions that go with it. That of never belonging in either place.
–Warren Mason, Tin Camp founder and host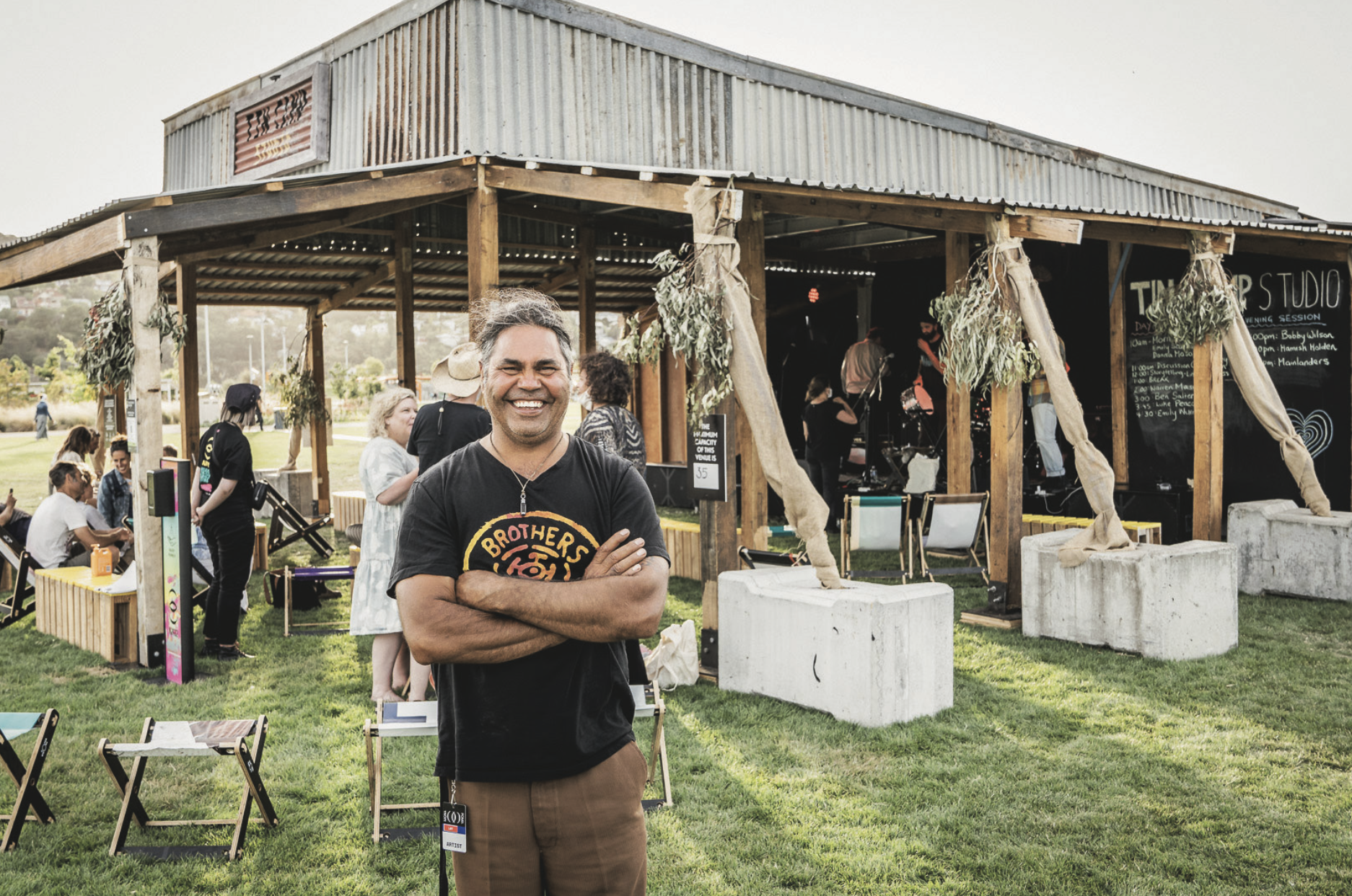 Tin Camp Studios is a Contemporary Art Tasmania touring project, and has been generously supported by the Restart Investment to Sustain and Expand (RISE) Fund – an Australian Government initiative, Live Music Australia, the Regional Arts Fund and Arts Tasmania.