Curator
Pat Hoffie
Associate Curator
Rosemary Miller
Artists 
Selena De Carvalho
Karla Dickens
Ritchie Ares Dona
Rob Douma
Penny Evans
Lisa Garland
David mangenner Gough
Jamin
Joan Kelly
Greg Lehman
Greg Leong
Anne Lord
Gail Mabo
Aris Prabawa
Brian Robinson
Obery Sambo
Damien Shen
Hiromi Tango
Vanghoua Anthony Vue
Sera Waters
The Partnershipping Project
10 November 2018 – 13 December 2020
The Partnershipping Project (TPP) was conceived as a regional project linking Regional Artists, Regional Galleries, Regional Audiences and asks 'Does Place Matter?'
20 new installation works by 20 outstanding regional artists link and challenge diverse Australian communities across four regions (TAS, QLD, NSW, SA) through an ambitious partnered exhibition and touring project that builds audiences using a collaborative, interactive curatorial and touring framework.
Artists work together discursively with lead curator Pat Hoffie, approaching the project as a series of iterations that explore the effects of 'globalised' thinking and the impact on changing relationships to place.
For more information click here for The Partnershipping Project website.
Click here to download a PDF of The Partnershipping Project catalogue.
Image: Installation shot of The Partnershipping Project exhibition at Burnie Regional Gallery showing works by David mangenner Gough (foreground) and Selena de Carvalho (background). Photo by Rick Eaves 2018.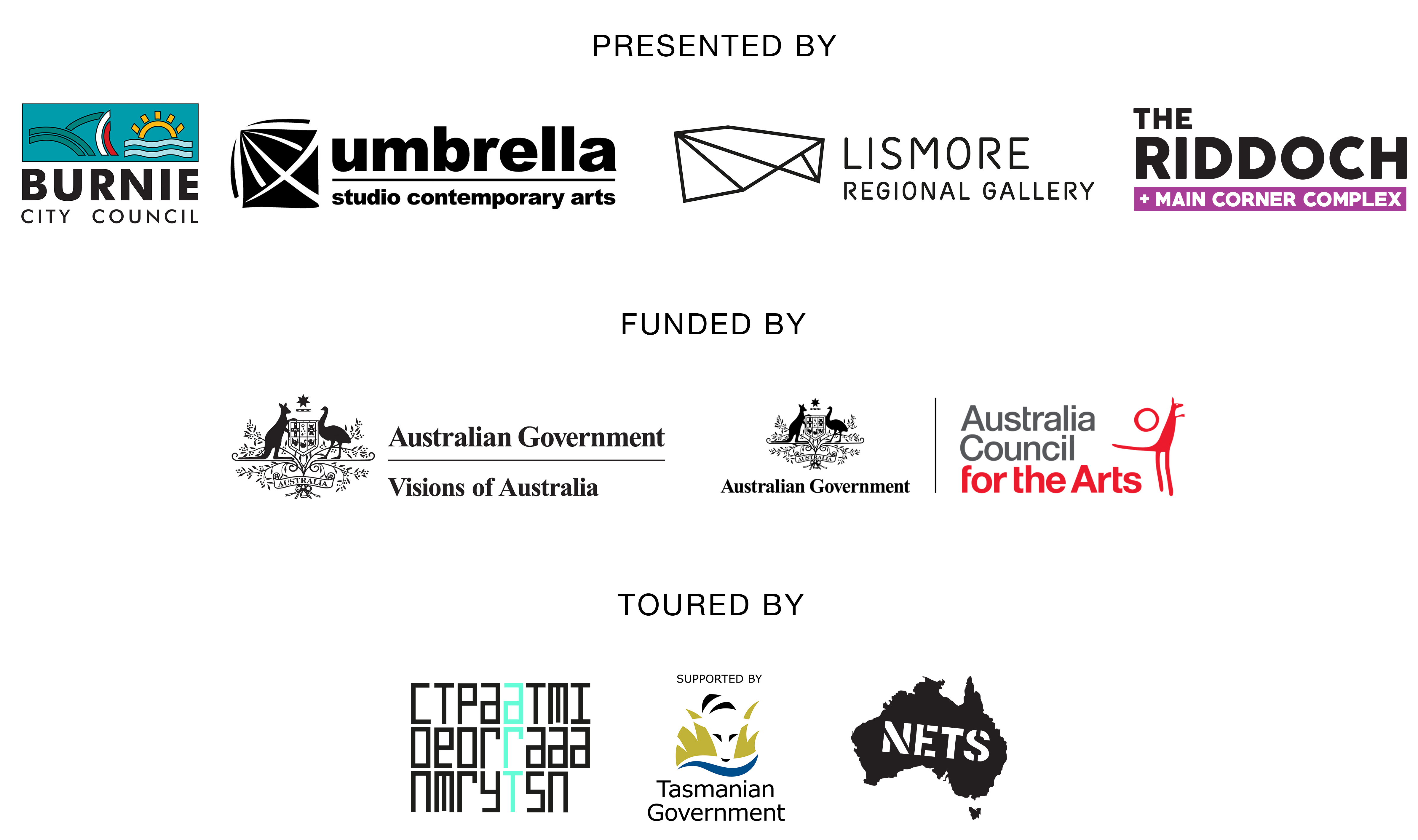 Tour Itinerary
Burnie Regional Art Gallery 10/11/2018 – 16/12/2018
Umbrella Studios Townsville 17/05/2019 – 23/06/2019
Lismore Regional Art Gallery 07/12/2019 – 02/02/2020
Riddoch Art Gallery  06/03/2020 – 23/05/2020
Burnie Regional Art Gallery 30/10/2020 – 13/12/2020