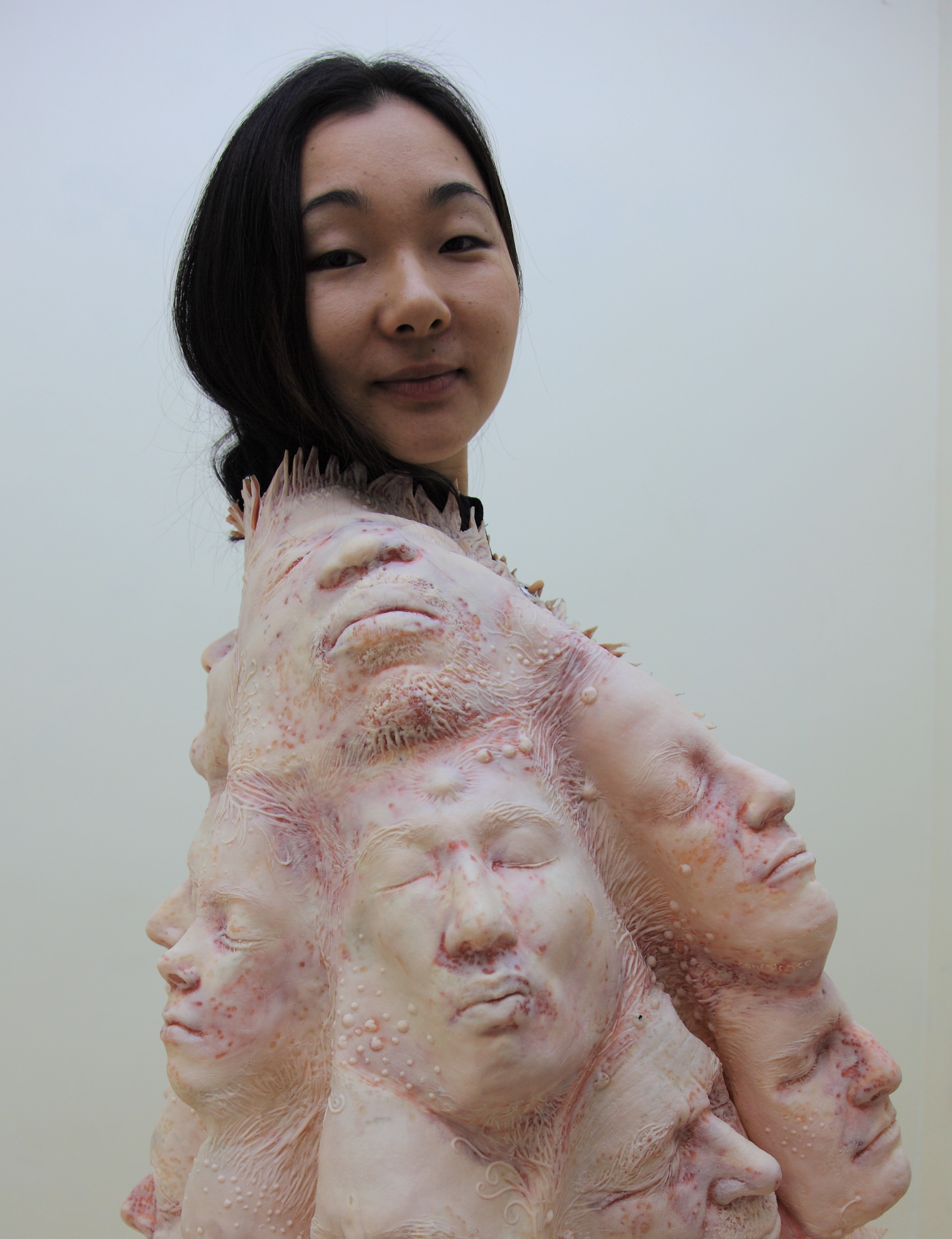 Throughout July, CAT will be hosting artist and composer Tomoko Momiyama in a residency and development of a project to be held in the gallery in August. Project curators Lisa Campbell-Smith and Joel Stern invite audiences and potential collaborators to read Momiyama's letter detailing her intention to engage through past practice and future realisation of ongoing research.
This project is funded by
Australia-Japan Foundation

and supported by

Asialink Arts

.
Hello, my name is Tomoko Momiyama. I am a music composer and artist from Japan.
My parents and most of my ancestors come from Fukui prefecture in the western part of Japan, where I was born. But I didn't grow up there. In fact, I was moved from one place to another throughout Japan, and later the United States, due to my father's work, during my childhood. I attended high school and university in the United States, where I studied music composition and cultural psychology. Twenty years ago, at the age of twenty-five, I returned to Japan where I have lived mostly in Tokyo, although recently, in April 2021, I moved to Gifu in central Japan.
My work is both international and local in scope and is based on developing and realising site-specific, community-based projects with collaborators in various parts of the world. I work with artists in multiple disciplines, in addition to specialists in different fields, including biologists, geologists, anthropologists, philosophers, shamans, activists, teachers, and so on. I have worked with children, the elderly, and survivors of natural and human-made disasters, among others. I have forged collaborations with Indigenous and ethnic minority communities in Japan, India, and etc.
I am driven by the question of how, as a music composer, I can help to nurture and support forms of listening that open people's ears to voices and sounds that might otherwise go unheard. These include human and more-than-human modes of sound and listening.
For example, I developed a participatory musical offering to be performed for an endangered sea in the Philippines; an electroacoustic piece in which Parisian trees were invited to 'speak' about the nuclear disaster in Fukushima; an installation created with nomadic children in the Himalayas which involved collective listening to a melting glacier; a multimedia concert with people struggling under the hardship of a South African mine; a ritual performance inviting people to make love with the wind in Indonesia; and so on. I am interested in creating music that belongs not only to myself but to other people, lives, and environments. Through collective musical practices such as these, I strive to contribute to cultivating a sense of 'home' among the residents of this planet.
I met my (symbolically) 'adopted' Ainu father in 2016 when I visited a village in Hokkaido in the north of Japan. Shortly before meeting him, I was informed by another Ainu person in another village that the reason they do not speak their native language anymore is that we Japanese had 'killed' it. As UNESCO notes, the Ainu language has been critically endangered for a long time now, as a direct result of the assimilation policies of Japan, and ongoing state of discrimination.
My 'adopted' father was one of the few people left, who grew up speaking Ainu when they were young: He spoke the language with his grandmother until when he was 19. When we met, he was telling a story in Ainu. As soon as he began speaking, I was struck by the soft and transparent voice that flowed from him like a spring of water. I was overcome by the profound preciousness of this sound, of the Ainu language alive inside him. That day he invited me to become his 'adopted' daughter. As a composer and musician, his voice resonated through me, a sound unique and unrepeatable. I wanted to try to inherit the essence of this sound through my body and hold it inside me as much as possible. I told him that I would study Ainu with him so that I could learn to speak the language myself. However, soon after we met, he fell ill, and a few years later, he passed away.
I have been left with a question that I have turned over in my mind for the years since. How can I, a Japanese person wholly complicit in colonial violence, honour the sound and memory of my adopted Ainu father's voice? At times, I have felt deeply lost in these reflections. In sadness and desperation, I composed a work for solo violin using the only recording I had of my adopted father teaching me phrases in Ainu. In this piece, the violinist carefully traces—with her body and instrument—a recording of my father speaking about his childhood memories of World War II. When the speech is finished, the violinist begins to stomp the ground and draw a circle with her steps in the centre of the stage, while reciting the fragments of a prayer with her instrument. I understand this as an attempt to commune with the recollection of his voice and sound. After these various phases, the audience finally hears, in complete darkness, the recording of my adopted father. The piece was performed in Osaka at the end of 2019. Following the presentation, several audience members approached, visibly moved, telling me that something magical had happened during the piece. They described the sense of being visited and touched by what felt like voices echoing inside their ears. However, I remain conflicted about the use of these materials. I am afraid that I may have trespassed on what is sacred. In composing and presenting this piece, have I made audible that which should be allowed to reverberate silently? I continue to visit my adopted father's village and have shared my account of the concert with his family members and friends.
In 2020, I was invited to develop an exhibition project in Tasmania, Australia. Through conversations with curators Lisa Campbell-Smith of Contemporary Art Tasmania, Joel Stern of Liquid Architecture, and Kristi Monfries of Volcanic Winds, I recounted this story about my life and work. Having listened attentively, the curators informed me of Aboriginal cultural practices around death and grieving—what is known as 'sorry business'—which include prohibitions on using the name, or reproducing and broadcasting the voice of a person who has passed away.
When I heard this, I felt a strong sense of connection, a desire to understand more, and to think about how these practices might relate to my adopted family situation. To this end, I am hoping, with the support of my curators at Contemporary Art Tasmania, to converse, exchange, and contemplate together with Indigenous collaborators in so-called 'Australia' about our ethical, spiritual, and political relationships with the voices of our ancestors, and the contexts in which these voices may or may not be reproduced through various means. I am interested in collaboratively exploring ways of connecting with ancestral voices while still observing prohibitions around reproduction, for instance through performance and installation.
My ultimate hope is to collaborate with Aboriginal 'Australian' and Ainu cultural practitioners to create an artwork that invites audiences to listen in ways that are deeply reflective, politically radical, and attuned to both what can, and cannot, be heard
Artist bio
Japan based Tomoko Momiyama works internationally as a music composer, artist, dramaturg, and producer of multi-disciplinary art events, installations, and performances. She graduated from Stanford University in the U.S. with B.A. in Music and Human Biology and further studied composition at the Royal Conservatory of the Netherlands in The Hague under the Japanese Government Overseas Study Programme for Artists. Tomoko's works, many of which are community-based and site-specific, have been performed throughout Japan, as well as in different parts of Asia, Europe, North and Central Americas, and Africa.
1: Touching the Depths of the Earth with One Note, 2019
Presented at the San Francisco International Arts Festival in San Francisco, U.S.A.
2: Meirin Attunement Room, 2018
Presented at the Kyoto Art Center in Kyoto, Japan.
3. Calling from a Changtang Steppe, 2014
Presented at the Earth Art Project in Ladakh, India.
Photo: Serge Koutchinsky, courtesy of Wall Art Project.
4. When Humans Go Extinct, 2014
Presented at the Unyazi Festival of Electronic Festival in Johannesburg, South Africa.